Copyright AFP 2017-2022. All rights reserved.
A post shared on Facebook in South Africa claims Italian doctors discovered that Covid-19 is not caused by a virus but a bacterium. The post also claims that the World Health Organization (WHO) has banned autopsies on people who die from Covid-19 and that the disease is exacerbated by 5G technology and can be cured by taking aspirin. But Italy's health ministry previously told AFP Fact Check this is a "hoax" and available health research confirms the claims are false.
The post was published on Facebook on January 3, 2022, and has since been shared nearly 130 times.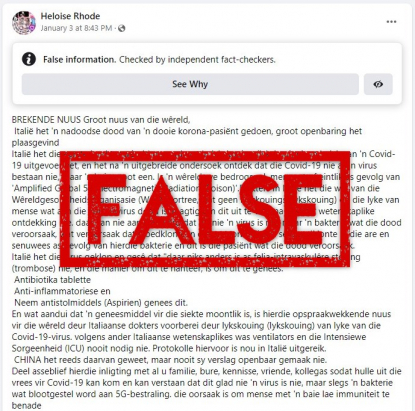 Screenshot of the false Facebook post, taken on January 12, 2021
A section of the post, written in Afrikaans, translates to: "Italy became the first country in the world to perform an autopsy on a corpse that had died from Covid-19."
The post added that the autopsy revealed that Covid-19 is caused by bacteria: "It is not a virus, but a bacterium that causes death".
The post adds that Italian doctors defied orders from the WHO and autopsied patients who had died from Covid-19. This is how they supposedly found that "a bacterium" causes the disease.
The post further claims that Covid-19 is caused by 5G mobile technology and that it can be cured with aspirin.
An internet search by AFP Fact Check found that the post is not new: almost identical copies of the claim have been shared on Facebook in South Africa here, and here since January 2021.
But the claims shared in the posts are false. AFP Fact Check previously debunked posts making similar claims in the Philippines and Nigeria in June 2020 and Pakistan in April 2021.
The Italian health ministry told AFP Fact Check in June 2020 that the claims about Italian doctors were "a hoax".
Bacteria Myth
Covid-19 is not caused by a bacterium as the post claims, it is caused by a coronavirus named Sars-CoV-2.
The WHO told AFP Fact Check that some people who are infected with the SARS-CoV-2 virus "may develop a secondary bacterial infection as a complication – this is also common in other viral illnesses. In such cases, antibiotics may be prescribed".
The WHO has also debunked the myth that Covid-19 is caused by bacteria and not a virus.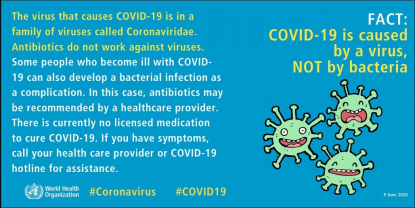 WHO graphic debunking the myth that Covid-19 is caused by bacteria
Peer-reviewed studies on Covid-19 patients in Italy and France also found that the disease is not bacterial.
WHO does not forbid Covid-19 autopsies
The WHO does not prohibit autopsies on people who have died from Covid-19. The global health agency released guidelines on safety procedures for autopsies on deceased Covid-19 patients in September 2020.
The WHO report states it is possible to carry out an autopsy on a body presumed or confirmed to be infected by Covid-19. This is conditional upon following certain safety measures to avoid any risk of contaminating the pathologists who perform these autopsies.
Aspirin not a cure for Covid-19
According to the post, the Italian doctors said that aspirin could treat Covid-19, however, scientists have not found any evidence to support this claim.
Aspirin is an over-the-counter drug commonly used for pain relief. According to the Food and Drug Administration (FDA), the drug is helpful when used to "lower the risk of heart attack, clot-related strokes and other blood flow problems in patients who have cardiovascular disease or who have already had a heart attack or stroke".
A study by the WHO into the effects of nonsteroidal anti-inflammatory drugs such as aspirin, ibuprofen, diclofenac and naproxen on acute respiratory viruses found no evidence that aspirin could cure or treat Covid-19.
WHO told AFP Fact Check that "currently, there's no licenced cure for Covid-19".
The Italian health ministry also states on its website that "there is no specific treatment for the disease caused by the new coronavirus. Treatment remains mainly based on a symptomatic approach, providing supportive therapies (e.g. oxygen therapy, fluid management) to infected people, which can nevertheless be highly effective."
Covid-19 does not spread through 5G
The fifth generation of cellular networks, popularly known as 5G, refers to a new standard for the internet that promises higher internet connection speeds and quality.
The claim that Covid-19 is linked to 5G mobile technology is not supported by any scientific evidence and has been debunked by AFP as a conspiracy theory here, here and here.
The WHO says on its website that "viruses cannot travel on radio waves/mobile networks".
The Australian Radiation Protection and Nuclear Safety Agency (ARPANSA), a government agency charged with monitoring and regulating radiation exposure, wrote in a statement that radio wave exposure from 5G has not been shown to "affect the immune system or cause any other long term or short term health effects".
Covid-19 spreads through droplets when people sneeze, cough, talk or touch contaminated surfaces – and not through 5G technology.
The first major Covid-19 outbreak was in the Chinese city of Wuhan in late 2019. It has since spread worldwide killing over 5.5 million people and infecting over 318 million as of January 13, 2022.
https://factcheck.afp.com/http%253A%252F%252Fdoc.afp.com%252F9W42LC-1