Sponsored by Callyo, a Motorola Solutions Company
By Police1 BrandFocus Staff
Smartphones and mobile technology are an essential part of every officer's 21st-century crime-solving toolbox, but the reality is that most law enforcement agencies do not have the resources to outfit every officer with a phone, often requiring them to use their personal smartphone for official police work.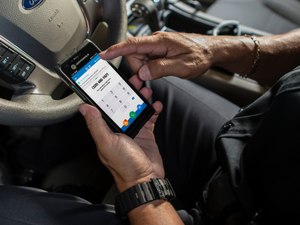 Police agencies are left urging officers to rethink how they use smartphone technology, especially when using their personal phone, and when the boundaries of on-duty and off-duty are blurred. Officers must balance the need for accessibility and transparency with their own privacy and security.
Such smartphone-related issues are a wake-up call for agencies to take steps to protect officer privacy and investigation integrity. Today's law enforcement officer needs secure ways to engage with citizens and safely capture conversations and other evidence while on duty. While smartphones allow officers to easily capture this information, the inability to separate personal and professional data can expose both the officer and the agency to liability. 
So how can agencies mitigate the risk of exposure? Enter virtual phone lines provided by Callyo's Investigative Suite and the 10-21 Police Phone app, available for Apple and Android devices.
PROTECTING OFFICER PRIVACY 
In the age of social media where there's increased scrutiny against law enforcement, an officer's decision or the necessity to use their own smartphone for work can introduce privacy concerns. There are two primary considerations for an officer to consider when using a department-issued phone or even their personal cell on the job:
Inappropriate use of smartphones can land a department in hot water, so most agencies have some form of policy dealing with an officer's technology use. But only relying on policies that prohibit disseminating information that negatively impacts the officer or the agency isn't enough to protect their privacy. Instead, agencies can leverage Callyo's purpose-built, affordable phone apps that shield an officer's personal smartphone from being subject to public review in a criminal trial.
VIRTUAL PHONE LINES, CLOUD STORAGE SHIELD PERSONAL DEVICES
How does it work? For starters, Callyo's 10-21 Police Phone mobile app lets officers make outbound calls to citizens without revealing their personal phone number. Calls are made from local (not blocked) numbers, and the app documents each interaction with a citizen. Communication records are stored on a government-cloud platform and not on the officer's device, providing the security and privacy needed to maintain an accurate log of events while protecting the officer's identity.
With more features designed for covert and overt operations, Callyo's suite of investigative apps allow detectives to safely collect digital evidence through recorded phone calls, text messages and video livestream, from a safe distance. Recorded interactions can be uploaded into the agency's RMS to provide a complete case for the prosecution.
3 BENEFITS OF VIRTUAL PHONE LINES
Here are three important ways virtual phone lines help departments unlock new opportunities for effective, accountable and transparent policing:
First, for law enforcement leadership, providing each officer with a virtual line for the personal device they are already carry is more cost-effective than reimbursing an officer's phone bill or issuing a department-issued smartphone for every officer. This helps departments meet the need to equip officers with current technology while staying within budget constraints.
Second, agencies are provided with more oversight and case management, especially when there's a complaint against an officer's investigation methods. Virtual phone lines prevent evidence omission or tampering and allows agencies to monitor investigative calls, promoting fairness and accuracy of information for defendants. They also benefit prosecutors by providing them with more complete evidence, which leads to a better prosecution success rate.
Finally, agencies can increase their use of virtual phone numbers in a matter of minutes, whether it's expanding the service to one phone or hundreds of users across the department. Adding or removing virtual phone numbers is easy, and the agency won't need to deal with commercial phone carriers to revoke or add access.
Officers need a sophisticated way to capture conversations and evidence, as well as protect their privacy while on the job. Consider how Callyo's virtual phone lines, available on Apple and Android devices, can help your agency accomplish both.
To learn more about virtual phone lines, download this free white paper.
Read Next: How to interact with citizens while maintaining your distance and privacy

https://www.police1.com/police-products/police-technology/articles/using-personal-smartphones-on-the-job-can-leave-officers-and-agencies-vulnerable-heres-how-to-reduce-your-risk-eOTHhgOiujlNdu63/